Safelink
Imperfect heath is stressful.
Working with BJC Healthcare in St. Louis during college (2014), we attempted to tackle the problem of transportation to and from hospitals. Social workers are spending too much time tracking patients down and handing out taxi/bus vouchers while patients don't have the physical or financial capacity to get themselves to and from the hospital. They have to rely on family members or inconsistent bus schedules, making it near impossible to make it to their necessary appointments. And after all that work, sometimes the patient gets all the way home only to not be able to get into their own house.
We talked to social workers and patients at Barnes-Jewish Hospital and ideated solutions for 8 weeks. Our solution, SafeLink, is a mobile phone service that connects patients and social workers through text and audio communication. The service helps social workers ensure their patients get home safely while giving the patient better access and control over their healthcare. We created a presentation, process book, and animation to explain our service.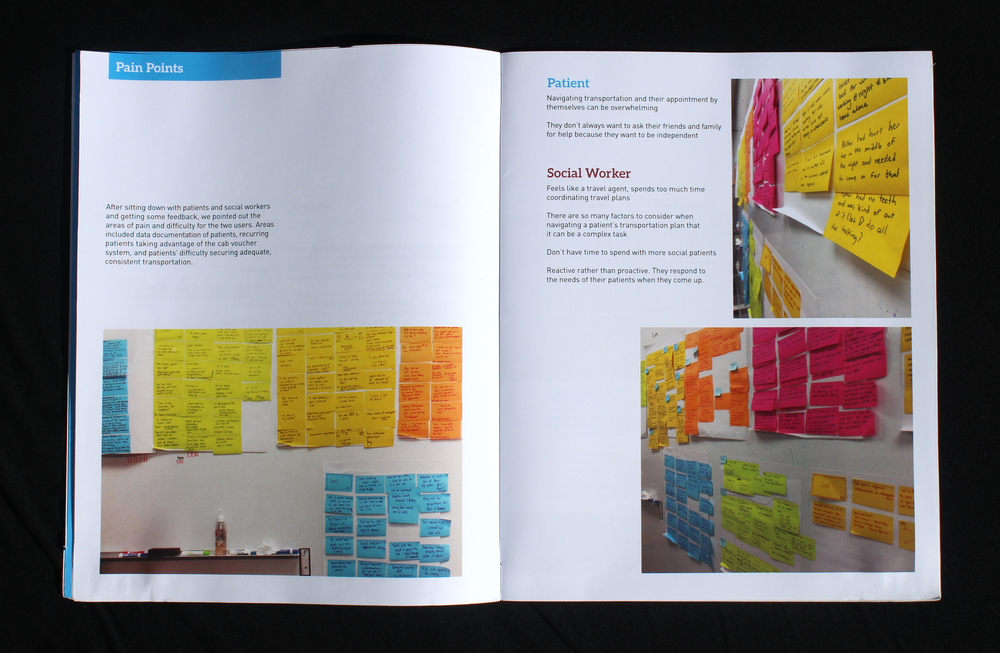 We spoke to three social workers and one patient through the WashU–BJC partnership.
After speaking to our users, we wrote down the main quotes from each person.
We created an As-Is journey map for both the social worker persona and the patient persona.
Top Insights
From the interviews, we came up with three insights:
1. A social worker's day-to-day work life is more reactive than proactive in helping patients navigate transportation.
2. Patients sometimes get home, can't get into their house, and have to come back to the hospital.
3. Some patients have to navigate their illness and their transportation without help from friends or family. Therefore, the social worker can be a main source of support for patients. However, they are often too busy to fully provide for this personal support.
Perceptual Map
We then did a couple of brainstorming exercises based on these findings to come up with solutions. We put a couple lenses on the ideation to help inspire ideas including a gaming focus and a social focus. We took our best and most complete ideas and mapped them on a Perceptual Map. We charted them on cost vs. complexity. Since we wanted to design a solution for our school project, we chose a cheap and simple implementation: a mobile app.
To-Be Journey Map
Next step was to map out the to-be experience. After doing some research on cell phone usage and smart phone usage in low-income families, we wrote out the ideal situation from both personas' point of views.
This may not be the prettiest design (trust me, I know) since we were all more research-focused, but we designed a simple prototype. The social worker could keep track of all their patients and see if they got home safely. The patient would call or text a number when they got home to notify their social worker and family to let them know that they were in their house safe and sound.
We had to create deliverables, so my team animated a short video describing our solution and designed a book showing our process of the whole project.